Mykonos

,

Cyclades

,

Greece

,

84600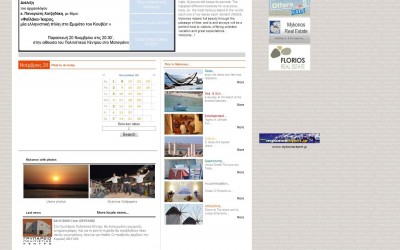 About e-mykonos.gr
The e-mykonos.gr is an Information Portal for the island of Mykonos. The e-mykonos.gr started by two founding members in 2005 and now is a group of five people supporting it to be always informed and modern. As a principal activity we have the Technical Office as Mechanical Engineers which is located in Rohari area of Mykonos.

Why e-mykonos.gr is different;

* The simplicity, the seriousness and objectivity of our information via the Internet on issues concerning the island of Mykonos.
* The immediate contact with you on matters pertaining to you or your businesses. .
* The creation and updating of modern and dynamic web pages for better communication and operation of the enterprise or activity.