Mykonos

,

Cyclades

,

Greece

,

84600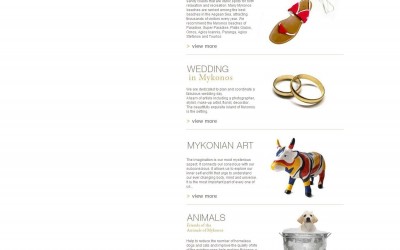 About mykonosexclusive.com
Mykonos inspired us and led us to new Roads. New prospects and opportunities for the future.

Mykonos Exclusive is now a reality. The second year of operations finds Mykonos Exclusive to have surpassed the dreams I had for it, when it was still just an idea in my head.
Mykonos Exclusive is the result of a passion of many years and the collaboration of people who share everything and strive for the best, so much for the team as well as for the sustainable development of the island's businesses.

Our mission is to bring you closer and provide you with the opportunity to become members of our family; to travel even to the most remote place on the planet having our experience in electronic and printed promotion, as a compass.

For so many years Mykonos has been the ideal destination for many, it is therefore time for this island to have its own destination and be promoted as it so righteously deserves .....

Let Mykonos Exclusive be your Guide and spoil yourself in Mykonos Island!