Leto Hotel, Chora

,

Mykonos

,

Cyclades

,

Greece

,

84600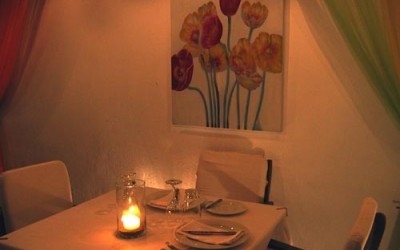 About Leto Restaurant
For the more romantic and dreamy of you, for the lovers of soft music and idyllic atmosphere, but mostly for the demanding tasters, Leto restaurant is ideal to relax and taste exquisite recipes from the local cuisine.

Leto restaurant operates since 1998 and has an international fame. Here have dined personalities from all areas. Politicians, artists, cosmopolitan, all Greek celebrities and personalities from the international jet set that spend their holidays in Mykonos. They have all dined in Leto, which combines an elegant atmosphere and accessible luxury, with fine tastes and perfect service.

Leto is located in the only garden in Mykonos, inside the homonym hotel.
Exotic palm trees, pikrodafnes with their wide leaves, aggelikes and nightflowers with their enchanting fragrance around the pool will make you forget you're in Mykonos!
But when your sight meets with the graphic settlement of Chora or the crowded port of Mykonos, which view from the restaurant is unique, you will be surprised - once again - from the options that this island offers you.

As for Letos' gastronomic suggestions, you will need some time to decide what to order. The rich menu of the restaurant includes recipes from the Mediterranean cuisine, giving emphasis to the Greek cuisine.
In daily bases, the chef has a special proposal for those who like to taste new recipes. The most famous traditional dishes from various places in Greece, at your table...

The restaurant's specialties distinguish for their unique tastes that raise Mykonos standards.
We propose you to taste: a cool salad with screw nuts made of barley from Crete, mature tomato, manouri cheese, praso and olive oil.
For main dish prefer a fish fillet grilled, with lime and peppermint leaves.
Or risotto with vegetable marrows safran and grana.

Worth trying is one of Leto's classic dishes, astakomakaronada.
A chocolate temptation will make you say yes to dessert, without caring for calories. Try a pyramid chocolate and blackberry mousse.
Leto Restaurant Features